Aircraft Losses in my Time.

By Leslie J. Hay.


(A reply to my mail. I wrote that in "The Dog" I have seen, that in Uncle Will's time at 49 Sqn. only 20 % survived from crews, who failed to return. JJ)
Dear Jorgen.
The best way to appreciate the difficulty experienced by some crews in baling out, I have shown 49 Sqn. losses fairly fully as there may be slight differences from those in "The Dog". John Ward had a copy of all my records to assist him but some have come to light in later years. I know whether they were "KIA" - killed in action, or had no known grave also, in a number of cases how or by whom they were shot down.
July 1944.
28/29th.
(The day I joined the Squadron).
JB 701 "G". 7 KIA.
August 1944.
None -
We were mainly concerned with Flying Bomb sites and assisting our troops breaking out from the Normandy Beachheads.
Half the Squadron was training on AGLT - "Village Inn".
September 1944.
None –
The other half of the Squadron was training on "Village Inn". The number of combats without loss seem to show the use of this system was effective.
October 1944.
Our good fortune did not continue: -
6th.
PB 353 "E". 7 KIA.
PB 429 "?". 7 KIA.
27th.
A 49 Sqn. Flight Engineer was killed when making an unauthorised flight in a Mosquito which was being used for fighter affiliation - practice training, which we all had to do to when not required for ops that night.
November 1944.
2nd.
PB 385 "V". 7 KIA.
4th
PB 370 "F". 7 KIA.
21st
PB 300 "K". 6 KIA. 1 POW.
PB 354 "G". 7 KIA.
26th
PB 432 "O". 2 KIA. 5 injured. This aircraft crashed shortly after take off.
December 1944.
11th
PB 799 "G". Engaged in Training - Aircraft & 7 men missing.
17th
PB 355 "B". 7 KIA.
January 1945.
8th
PB 586 "V". 7 KIA.
February 1945.
8/9th
ME 353 "B". 6 KIA, 1 POW. Crew on their 25th operation. (Very friendly with my crew and this hit us hard).
SW 274 "G". 1 A/G killed when the aircraft was overturned by flak. Bombing was completed & the aircraft returned to base.
21st
NG 327 "K". 5 KIA, 2 POW, but one of these died on one of the "Death Marches" when the column was strafed by Allied aircraft.
PB 568 "Y". 1 KIA, 4 POW, 2 evaded capture. Crew on their 35 operation - two ops ahead of me!
March 1945.
7/8th
PB 537 "X". 4 KIA, 3 POW.
ME 471 "?". 2 KIA. Hit by flak. The Bomb Aimer was probably blown out. The Flight Engineer was killed but the injured pilot brought the aircraft back with 5 live men and one dead onboard.
14/15th.
RF 153 "K". 6 KIA, 1 POW.
16/17th
ME 454 "E". 3 KIA. Hit by 2 flak bursts. Crew baled out.
I have this information from the Wireless Operator: - It was their 4th operation: -
"Our aircraft had been hit by 2 bursts of flak, the first on the port wing, the second under the Navigator. The floor of the aircraft was covered with 100 octane fuel which only needed a spark to ignite it. The two gunners and the Flight Engineer were killed. The Bomb Aimer and I carried the Navigator to the bed in the middle of the aircraft where I bandaged his badly woulded legs. We later carried him to the front of the aircraft and pushed him out - He survived. The Flight Engineer's parachute opened when he was in the aircraft so he and the pilot tried to jump with one parachute but they could not stay together. The pilot only just got out as the aircraft caught fire - he had burns to his face.The last I saw of the Mid Upper Gunner was when he told me that he could not open the side door to jump out.
The rest of us landed in France and spent the night in the woods. I was picked up next morning by Americans who came at me with rifles aimed because they did not know me from a hostile German. I was reunited with the remainder of my crew that morning in a field hospital".
I feel think that practice drills were quite good, but the above account shows that, in reality at night in an unstable aircraft, things are very different and procedure is governed by circumstances.
You will have seen from page 459 of our Book "The Dog", that we lost another crew that night - NG 352. This account gives a fairly good impression of what actually happened when baling out was necessary. I must say that in most aircraft the Flight Engineer would never have been pouring out a cup of tea at the target. He would have been looking out for fighters and flak!
NG 352 "J". 1 KIA, 5 POW, 1 murdered.
(F/E Sgt. Peter Roberts tells that they arrived in the target area a little too early. He was just pouring out a cup of tea, when suddenly cannon shells ripped into J-Jig. He knew they had only seconds to get out. The bomb aimer was having trouble getting the front hatch open. He went to help him. Smoke and flames were everywhere, but they managed to get out!
One murdered: W/OP F/S D. J. Hughes managed to escape from the burning aircraft successfully by parachute. He was found hiding in the church sacristy at Elbelstadt and placed in the Police cells for interrogation. After two days he was removed by SS, marched to the river and shot in his back. The body was thrown in the river. "The Dog". JJ)
April 1945.
4th.
ME 308 "F". 7 KIA.
I do not know what happened this night as they were all killed, but there seems to have been difficulty in sorting out bodies from aircraft. Records originally showed that F/O Hook a POW in February 1945 and died on one of the "Death Marches", was from this crew. It took quite a bit of sorting out as some were buried in Holland and some in Germany. How they died is an open question as many were being lynched.
9th.
PB 374 "N". 7 KIA. No known graves.
RA 531 "S". 7 KIA.
22nd.
PB 463 "Y". Crew of 6 killed.
A tragic affair when the Squadron was being transferred to another Station. I cannot comment on this as having tested this pilot who had 2.000 hours flying experience, on arrival on the Squadron, I gave evidence before a Court of Enquiry.
Kind regards to you both from
Leslie J. Hay
"Uncle Will"
The Fulbeck Tragedy.

The 22nd of April 1945 short before 10 o'clock in the morning 49 Squadron's Lancasters were taking off from RAF Fulbeck for the last time bound for their new home at RAF Syerston. Some aircraft had departed when Lancaster PR 463 EA-Y made a low level farewell pass "shooting up" Fulbeck coming in very low. As the pilot pulled up the tail hit the MT shed, bringing the aircraft down onto a large group of ground personnel killing the crew of 6 and 15 from the group.("The Dog").

Jorgen Jorgensen
Read about each loss, go to
"The Dog":
"Beware of the Dog – At War". An Operational Diary of 49 Squadron. By John Ward.
ISBN – 0 9532252 0 8
Published by
John Ward and Ted Cachart as
JoTe Publications. 4 Cottage Close. Heage. Belper. Derbyshire. DE56 2BS. UK
http://www.bomberhistory.co.uk/49squadron/Publications.html

Read about "Uncle Will" and his war experiences, go to "The Canal Raids", "An Old Airman's Tale", on Malcolm Brooke's website www.bomberhistory.co.uk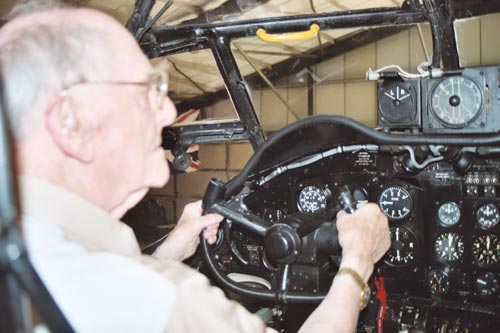 Photo: Jorgen Jorgensen East Kirkby 2005.08.17